Genealogy
'Happy Brexit Day' Norwich flat residents unite to show support
Image caption Residents have been pinning up messages of support Residents at a block of flats where "Happy Brexit Day" notices appeared have pinned up positive messages which express togetherness.The notices, which demand residents speak only English, were spotted at Winchester Tower in Norwich on Friday.On Sunday, about 50 people met at the block to…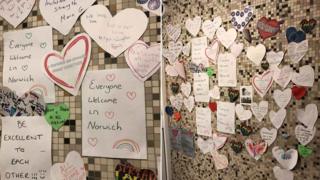 Residents at a block of flats where "Happy Brexit Day" notices appeared have pinned up positive messages which express togetherness.
The notices, which demand residents speak only English, were spotted at Winchester Tower in Norwich on Friday.
On Sunday, about 50 people met at the block to say it was a "multicultural building and everybody was welcome".
Norwich City Council said it would "not tolerate" the behaviour of those behind the original signs.
The UK left the European Union at 23:00 GMT on Friday after 47 years of membership, following a referendum in 2016.
The typed pages, which were posted on all 15 floors, said: "We finally have our great country back."
They also add: "We do not tolerate people speaking other languages than English in the flats.
"If you do want to speak whatever is the mother tongue of the country you came from then we suggest you return to that place and return your flat to the council so they can let British people live here."
After a speech in London, Boris Johnson was asked by a Greek journalist whether he condemned the notices, and he replied: "Yeah, I do."
The prime minster continued: "Of course I think it is a wonderful thing that people should learn English and people living here for a long time should definitely do that and they should be helped to do that and we put a lot of money into people learning English for speakers of other languages.
"But the idea you propose [of the notices] is certainly new to me and I have not heard that one."
A resident who lives in the block on Vauxhall Street reported the signs – which have since been taken down – to police.
Norfolk Police said the matter was being treated as "a racially aggravated public order incident".
A spokeswoman said no arrests had been made and inquiries were ongoing.
After Sunday's show of support, resident Rosemary Miller said the block had "lovely people" and a "lovely atmosphere" and she had not previously known of any tension.
"We all stood round the tower holding hands and saying that we were a multicultural building and everybody is welcome," she said.
"I put on the wall, [a sign saying] 'let's live in a city of love for all, we love our tower block, we love everybody, we are all family'."
In a tweet, the city council said: "Norwich has a proud history of being a welcoming city and we will not tolerate this behaviour."
Labour county councillor Emma Corlett said she knew residents would be "disgusted" and it was "really important that that response was led by the people that live there and their voice was heard".
"Equally it's important not to be complacent, we can't pretend there aren't people out there with hateful views that feel emboldened to say them at the moment and it is important that we robustly respond to it any time it rears its head," she said.
Subscribe to the newsletter news
We hate SPAM and promise to keep your email address safe