Electric Cars
70th Anniversary Grand Prix: George Russell has 'complete faith' in Mercedes
The 70th Anniversary Grand Prix is live on 5 Live and the BBC Sport websiteGeorge Russell says he has total trust in Mercedes to guide him to the front of the Formula 1 grid in the future. The 22-year-old Briton has been managed by Mercedes since 2017. They negotiated his three-year contract at Williams, for…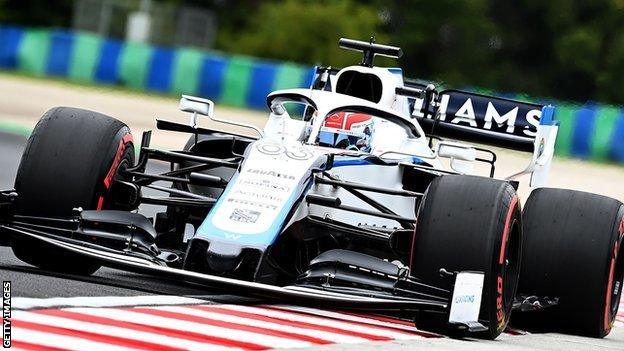 George Russell says he has total trust in Mercedes to guide him to the front of the Formula 1 grid in the future.
The 22-year-old Briton has been managed by Mercedes since 2017. They negotiated his three-year contract at Williams, for whom he made his F1 debut in 2019.
Russell says: "Mercedes have given me their word they are still fully supporting me and I have complete faith in them.
"We will see what comes throughout this year and where we find ourselves at the end of 2021."
Mercedes made inquiries to Williams with regard to Russell's potential availability for next season as part of due diligence with regard to their driver decisions for 2021.
That suggests Russell was potentially in the running for a promotion to the world champions as early as next year, but deputy team principal Claire Williams made it clear she wanted him to see out his contract with the team.
Mercedes are now expected to continue with their current line-up of Lewis Hamilton and Valtteri Bottas for at least one further year in 2021.
Russell says: "When I signed with Williams, which was orchestrated a lot with Mercedes, we all knew I was signing for three years. That was always the plan.
"Sometimes opportunities arise but this was all part of the plan from back in 2017 almost – race Formula 2, win F2, go to F1, see where we find ourselves and we have a three-year deal.
"I think we'd all probably be feeling slightly different if I was in, say, Lando's shoes in a car capable of scoring a podium."
Wishing vanquished rivals well
"Lando" is McLaren driver Norris, who Russell beat to the F2 title in 2018 and who scored his maiden F1 podium at the first grand prix of this year in Austria.
Russell's best result is a 12th place in the chaotic Brazilian Grand Prix last November.
Russell spent his debut season last year with a car that was two seconds off the back of the grid. But things are looking up this year following progress by Williams, who have advanced to the point they can compete in the pack with other teams.
Russell has twice qualified 12th, narrowly missing out on making the the final section of qualifying, the top 10 shootout.
This is a long way from what would be on the table in a potential Mercedes seat, but Russell says he feels no resentment towards Norris, or Alex Albon, another old friend and rival who finished third in F2 in 2018 and is now in a Red Bull, even if he is struggling alongside Max Verstappen.
"Ultimately, the people who will make a difference in my career – Williams, Claire, Toto [Wolff, Mercedes F1 boss], everyone at Mercedes – they all know what I did in 2018," Russell says.
"I don't need to say anything. It looks better for me the better Lando and Alex are doing.
"Some would be bitter seeing their rivals at the front and you at the back but actually I want them to do well and it comes across even better for me every time they do well because of what happened in 2018."
As for fighting for points while Norris and Albon are gunning for podiums, Russell says: "All of us, especially myself, I am a racer and I want to win, and as much as I would love to be fighting in the points, you always want more.
"As a racer and a driver, it is never enough until you're fighting for that championship.
"I would love to be higher up the grid, but I know that I want to be fighting for race wins and championships. I am learning my thing – as they are.
"But this is a longer game and I don't want to let anyone upset me or get on top of me that could hinder me further down the line. I am in my second year now and I hope to be here for the next 15 to 20 years."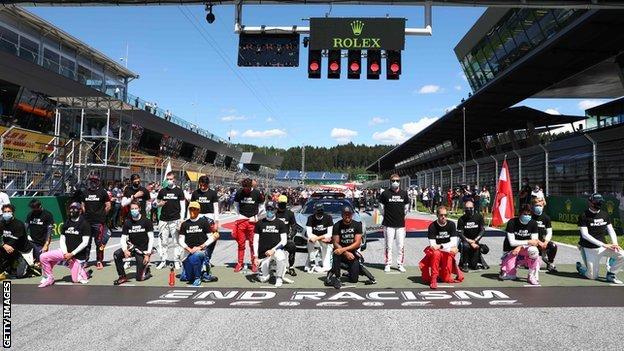 Backing for Hamilton on anti-racism
Russell is part of a stellar younger generation that in addition to himself, Norris and Albon also includes Ferrari's Charles Leclerc, all of them old rivals from their teenage karting years.
Russell's obvious potential and intelligence have given him a profile beyond his competitive position, and in recent weeks he has found himself at the forefront of F1's campaign against racism.
He was one of the first drivers to respond to Lewis Hamilton's demand that others beside him speak out.
"Lewis has done an incredible job to not only make others in the world aware of the situation but to help us use our voice to portray the message," Russell says.
"As both myself and Charles mentioned in our tweets, a month or so ago now, I guess we found it difficult to know how to express ourselves in a situation like this.
"But learning that we all have a voice and we all have to use it has been great from that side. We have all learned how powerful we can be as one."
He is also smart enough to subtly push back on suggestions that the drivers were to blame for the somewhat haphazard anti-racism gestures planned for the second and third races, after a better-orchestrated one at the opening race of the season.
"I guess with any situation in life you learn from the experiences," Russell says. "Perhaps we didn't think it was our duty to make sure the cameras were in the right spots, let's say. Our duty was to express our feelings towards the matter.
"We have since learned that it is is our duty to make sure everyone involved is aware of our plans, when we're going to do it, how we're going to do it, and make sure it comes across in the correct way and that we are united in the fight against racism, which is what we are all standing for."
A home race without fans
Regarded as a future world champion, Russell for now has to bide his time and learn his trade towards the back.
For the second weekend in succession, he is returning to Silverstone, the place where his F1 dream began.
He says a weekend at the British Grand Prix in 2009, standing on the outside of Copse corner, was the turning point that led him to where he is today.
"I remember the noise and buzz was electric, and that was the point in my life when I said, 'This is what I want to do when I'm older'. The circuit is incredible; it is so flowing. The high-speed nature gives the driver such a thrill."
His home debut last year he says was "really special, seeing the fans cheering, throwing them merchandise, you felt a bit of a rock star almost".
This year, he says, "it feels very different – you don't quite have the same buzz you ordinarily have, driving into the paddock, all the fans there waiting, busy. It almost feels like a test day sometimes. Which is a strange feeling.
"But as soon as the helmet is on, you're fully focused on your job."
And the job is getting the best out of his Williams, impressing the people who matter, inching his way towards being in a position to grab the big chance when it comes.
Real Life. Real News. Real Voices
Help us tell more of the stories that matter
Become a founding member
Subscribe to the newsletter news
We hate SPAM and promise to keep your email address safe