Sports
Coronavirus: What measures are countries taking to stop it?
Image copyright Getty Images Image caption The US is now barring entry from 26 European countries Countries around the world are taking different measures to try to stop the spread of coronavirus.The World Health Organization (WHO) has called for "urgent and aggressive action" to bring the outbreak under control.We've been looking at what different countries…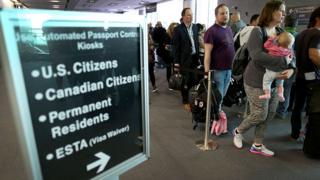 Countries around the world are taking different measures to try to stop the spread of coronavirus.
The World Health Organization (WHO) has called for "urgent and aggressive action" to bring the outbreak under control.
We've been looking at what different countries are doing.
Who is restricting travel and movement?
The US has announced restrictions on 26 European countries, preventing anyone (except US citizens) from entering the country if they've been in Europe's border-free travel zone in the past 14 days.
India says it's suspending visas for all foreigners for a month starting this Friday, with a few exemptions such as for diplomats, official or employment purposes.
Kuwait has also stopped issuing visas to foreign visitors.
And various countries around the world have now stopped or restricted entry to travellers from the countries worst affected by the virus, like China, Italy, Iran and South Korea.
Italy is now in a major lockdown, with special permission needed for travel within the country, and some countries have advised their nationals against non-essential travel there.
When the outbreak began in China, the authorities there restricted travel nationwide and told people to stay at home, only relaxing this recently.
The Iranian authorities have also tried to restrict travel between cities, but they did not seal off the holy city of Qom, where there were large numbers of cases.
The WHO advice is not to apply travel restrictions, except for a temporary period.
"In general, evidence shows that restricting the movement of people and goods during public health emergencies is ineffective in most situations," it said.
Who is screening at airports?
Some countries – if they are not barring entry – are screening arrivals at airports and other transport hubs. This can involve questioning travellers about their recent movements, their health and carrying out temperature checks.
However, there are doubts about how effective this is because symptoms can take days to appear.
Recent academic research ran simulations that suggested temperature checks at airports would catch just over half of coronavirus-infected passengers.
Airports in Italy have been running temperature checks on passengers since early February, and there are also tests at railway stations. Thermometers are a common sight at airports throughout Asia.
And the US – as part of the travel restrictions announced on Europe – has said its citizens will be screened at designated airports.
How many tests are being carried out?
There is considerable variation in how many people are being tested for coronavirus around the world.
South Korea has been carrying out more tests per head of population than anyone else, with nearly 20,000 people tested every day.
Compare that with an average of about 1,000 a day in England – although there are now plans to ramp this up to 10.000 daily.
The US has so far carried out even fewer tests, with reports of shortages at some health centres.
How severe the outbreak has been is another factor, with countries which see a spike in cases generally starting to increase the numbers they test.
Who has closed schools and colleges?
The UN's educational, scientific and cultural body Unesco says that as of 11 March, 39 countries have announced or implemented school or university closures.
School closures can be hugely disruptive socially and economically, and governments will be weighing up the pros and cons.
Ireland has announced it's closing its schools and colleges until 29 March, and there've been school closures at national or local level in other European countries.
In the UK and Germany, a relatively small number of schools have been closed temporarily to allow for deep cleaning after staff or pupils tested positive or returned from high-risk areas.
China closed schools in many areas, and Japan has asked all schools to close until the end of the school year, which is in late March.
Italy has closed all its schools until April as part of the nationwide lockdown. There have also been nationwide school closures in Iran, Iraq and Saudi Arabia.
What about public events?
A range of sporting events have been cancelled or played in empty stadiums.
Some countries have also banned gatherings in wedding halls, restaurants, theatres, cinemas and other public venues – in some cases stopping any indoor gathering of more than 100 people.
Rugby Union's Six Nations matches which were due to be played on 14 March between Italy and England and France and Ireland have been postponed.
The Indian Wells tennis tournament in California was cancelled after a public health emergency was declared for the Coachella Valley.
In Greece, the government has announced that all professional sports events for the next two weeks will be played without spectators.
The Barcelona Marathon has been moved from 15 March to 25 October.
The Italian Football League has suspended all games until 3 April, the Swiss Football League has been shut down until 23 March and a host of other football matches, especially ones between teams from different countries, have been played behind closed doors.
Meanwhile, Japan's Olympics Minister Seiko Hashimoto has said everything is being done to allow the Games to go ahead on 24 July, but said it could be delayed until later in the year.
Are museums and tourist attractions still open?
Some of the world's most famous visitor attractions have closed, restricted entry or told visitors to minimise close contact with each other.
The huge Disney resort in Shanghai only partially reopened on Monday after being shut for more than a month. But Hong Kong's Disneyland remains closed as do Disney theme parks in Japan.
There have also been temporary closures of tourist sites across Italy, and restrictions or new measures introduced for visitors to other attractions in Europe.
Saudi Arabia temporarily halted the entry of pilgrims wanting to visit the holy sites, and Iraq introduced restrictions on access to religious sites.
Subscribe to the newsletter news
We hate SPAM and promise to keep your email address safe