Genealogy
George Floyd: Crowds gather for Welsh anti-racism protests
Image copyright Wales News Service Image caption Around a thousand people joined the protest in Cardiff People in Wales have joined campaigners from around the world in protest over the death of George Floyd. Crowds gathered in cities across the UK and Wales including Cardiff, Swansea, Bangor and Caerphilly as part of the Black Lives…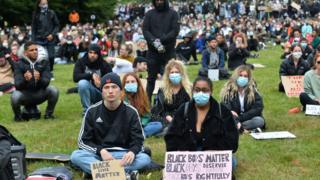 People in Wales have joined campaigners from around the world in protest over the death of George Floyd.
Crowds gathered in cities across the UK and Wales including Cardiff, Swansea, Bangor and Caerphilly as part of the Black Lives Matter movement.
Official government advice is to avoid mass gatherings amid the coronavirus pandemic "for safety" and police said the protests were "unlawful".
A senior Welsh Conservative politician has criticised the protests.
After seeing the large crowds in Cardiff, Andrew RT Davies, the former Tory leader in Wales, said the "lockdown and social distancing appears to be over in Wales".
"We are in midst of fighting a pandemic and the rules that have been introduced by the Welsh Government on public gatherings are clear, with the aim to stop the spread of the deadly coronavirus, protect the NHS & save lives," he tweeted.
"This does the opposite and effectively ends lockdown."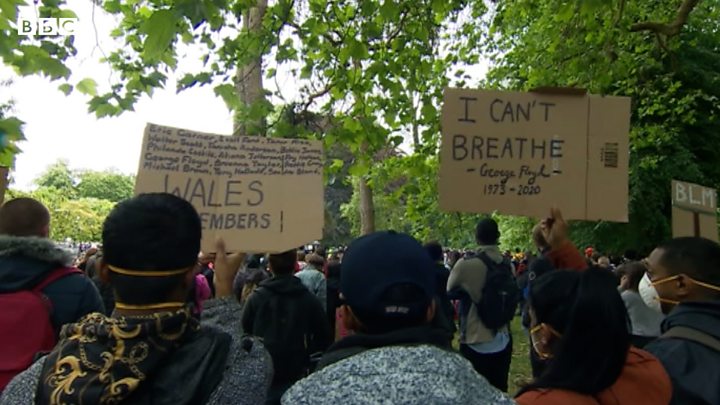 The Black Lives Matters protests began in the US after a video emerged of Mr Floyd, 46, being arrested on 25 May in Minneapolis.
Footage showed him gasping that he could not breathe during the arrest by four officers.
They have since been charged over the death, which sparked days of protest in the US and demonstrations across the world.
In Wales, the protests took place at places Cardiff's Bute Park, Caerphilly Castle and near Bangor's War Memorial.
At the Cardiff demonstration, one protestor, named Sarah, said: "I think it's incredible to see the solidarity of everyone coming here today, despite the climate that we're in, to fight for people that have been killed for centuries and centuries, and people that have been discriminated against for no other reason but the colour of their skin.
"As a person of colour it's [racism] just absurd, but obviously for some people it makes sense, and I just think it's amazing that everyone can come here today and celebrate black lives and show that black lives really do matter."
Another protestor, Roman, said: "We're here to make a stand. We're here to show everyone's equal and, of course, black lives matter.
Thousands also gathered in UK cities like London, Manchester, Leicester and Sheffield.
Many protestors wore face coverings and others wore gloves.
During a minute's silence, protesters knelt on one knee while holding their fists in the air before chanting Mr Floyd's name and applauding.
Hundreds of campaigners in Cardiff marched from Bute Park to the Senedd in Cardiff Bay – once known as Tiger Bay, Wales' oldest multi-ethnic community – to continue their protest outside the Welsh Parliament.
More than 50 people gathered in Denbigh town square on Saturday in a "peaceful protest in solidarity".
"We wanted to show our love, our grief and our solidarity with all black people, even in the smallest of ways," organiser Alexandra Derwen said.
The home secretary, Priti Patel, had said she understood people's views and why they wanted to protest but said that "we must put public health first".
"Of course I completely understand people's to desire to express their views and have the right to protest," Ms Patel added.
"But the fact of the matter is we are in a health pandemic across the UK, coronavirus is a deadly virus and I would say to those who want to protest, please don't."
She urged organisers to speak to the police about ways to make the demonstrations safer.
In London, Metropolitan Police Commissioner Dame Cressida Dick said she understood the strength of feeling but urged protesters to find a way of expressing themselves which did not involve mass gatherings.
She said: "Now I appreciate that we have a very, very long history of people expressing themselves by assembling and waving placards and being in central London, and all those things are very dear to our history.
"But coming together in a gathering is not only unlawful but also perhaps more importantly, in a sense, it is putting yourself and your family at unnecessary risk and other people around you, as we all know it is a deadly virus and it can get spread in crowds."
Subscribe to the newsletter news
We hate SPAM and promise to keep your email address safe